Presented by Relax Seattle Theatre Group
December 16-18, 2016
Fri-Sat at 7:30pm and Sun at 2pm.
Tickets are $11 Online  and $13 at the door.
PRESENTED BY ECLECTIC THEATER AND RELAX THEATER GROUP
Festival Produced by Leonard D Goodisman and Patty Carlson
Program and Graphics by Jeff Weedman
Stage Manager Wendy Blackwood
Board Operator Richard Deskin
Publicity Zoë Richter
HAZELBERT by Leonard D Goodisman
Co-directed by Wendy Blackwood and Leonard Goodisman
Starring Annika Knapp and Marshall Link
This one's scary. She frightens him; he frightens her; they're both scared.
TWO FOR ONE Written and Directed By Josie DeLellis
Joyce: Paula Wilson Nitka
Kaitlin: Jana Blumberg
Anthony: Christopher Chambers
Two adult siblings on an outing bring their different personalities into play.
WOMAN WITHOUT HER COAT Written by Jorj Savage
Directed by Molly Blades
Carter: Chris Mathews
Ji: Laurel Clark
Do these unlikely lovers have a chance together? This is the culminal scene in Jorj Savage's two-character play "Woman Without Her Coat."
WOMEN RAP THE GENERATION GAP by Wendy Joseph, Jordan Kerbs, Leonard D Goodisman
Directed by Leonard D Goodisman
Starring Wendy Joseph and Jordan Kerbs
Grandma may attack but Jumping Jordan raps back.
A NIGHT IN GAIL Written and Directed By Chris Mathews
Steph: Jana Blumberg
Jan : Paula Wilson Nitka
Speed Bump: Molly Blades
A slice of life drama set in a woman's prison
THE BLACKOUT Written by Patty Carlson
Directed by Dave Cuomo
Rich: Mark Gladding
Rita: Kate Muldoon
Skip: Christopher Chambers
Liz: Jana Blumberg
Denny: Charles Mickelson
A gritty drama set in the early 1980s. It explores addiction, PTSD, and loyalty.
THE BLACKOUT will not be playing on Sunday, Dec. 18
RELAX THEATER: jeffmaxweed.wix.com/theater-plays
Eclectic Theater is powered by Shunpike
Sponsored by 4Culture.
Sponsored by Eclectic Theater.
###
Saturday, December 17 at 10:30pm
Welcome to NOT TOO LATE WITH EL SANCHEZ! A public access late night talk and variety show hosted by, well, comedian El Sanchez, with their lovely and talented co-host/band leader, comedian/non-musician Nick Sahoyah and filmed in front of YOU, our live television studio audience! Each month NTL brings you a variety of performers, stunts, comedians, special guests, musical acts, random weirdness and general late night antics to thrill, surprise and mostly entertain you!
At Eclectic Theater (1214 10th Ave.)
Tickets are $11 in advance, $13 at the door!
Doors are at 10:00 PM, Show starts at 10:30 PM!
Beer and cocktails will be available in the theater lobby!
Powered by Shunpike!
Sponsored by 4Culture!
More info at: http://www.nottoolatewitheliciasanchez.com
Sponsored by Eclectic Theater.
###
Coming Soon:
Thursday, December 29 at 8pm.
2016 was the WORST, so come get some laugh therapy and free comedic relief.
A free stand-up comedy show on Capitol Hill. Featuring some of Seattle's funniest comedians. Aside from people watching in a Seattle park, this is the second best way to have fun for cheap. Plus, you can always people watch during the day and come watch an amazing comedy show at night…this post has taken a weird stalkerish turn – but I'm okay with it.
https://www.facebook.com/events/1636923376600607/
Featuring:
Matthew Valdespino
Lucy Tollefson
Matt Benoit (UCB Tour Company and John Keister's tour)
Reid Clark
Ariel Evans
###
Tuesday, January 3, 2017
$10 online. Last minute reservations are $10 at the door (cash or card). Online sales close at 4 pm on January 3rd.
Tuesday, January 3rd
Doors @ 6:30 pm – Jam @ 7 pm
themammothjam8.brownpapertickets.com
The Mammoth is a monthly longform improv jam at Eclectic Theater!
Maybe you're completely new to improv. Maybe you've tried short form but not longform. Maybe you're a grizzled veteran who just grumbles things like "good move" instead of laughing. Good news! The Mammoth is for you! Show up by yourself or with friends! Leave with more friends! Everyone gets stage time!
The Mammoth is hosted and produced (with love) by Ethan Smith and Stephen Carter.
###
Buy an official Eclectic Theater T-Shirt!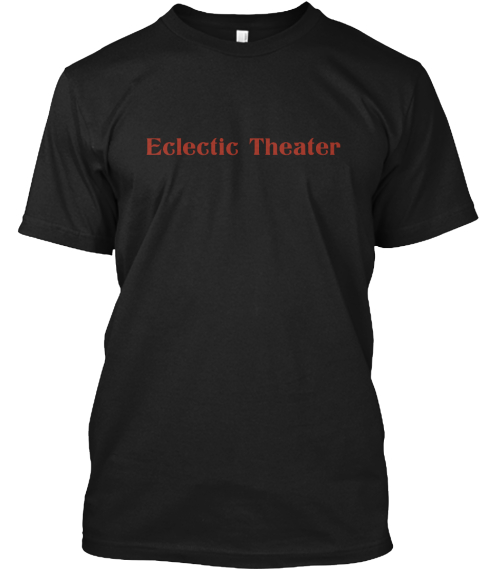 https://teespring.com/stores/eclectic-theater
###
Make an end of the year online donation to Eclectic Theater: https://co.clickandpledge.com/sp/d1/default.aspx?wid=56490
###